Can You find Me ? …Released in China
The Koala and the Cockatoo
Illustrator : Patrick Shirvington
Age 6 - 8 years
A heartwarming tale of friendship told against the stunning backdrop of the Australian outback and bush.Follow Chook, the Cockatoo, and Fluff, the Koala as they look for Fluff 's family, and discover the beauties of the Australian landscape along with them.Release date : 1st March 2019
Bronzewing unseen
Finalist 2019 Adelaide Perry Drawing Award
Pen and ink on paper 66 x 50 cm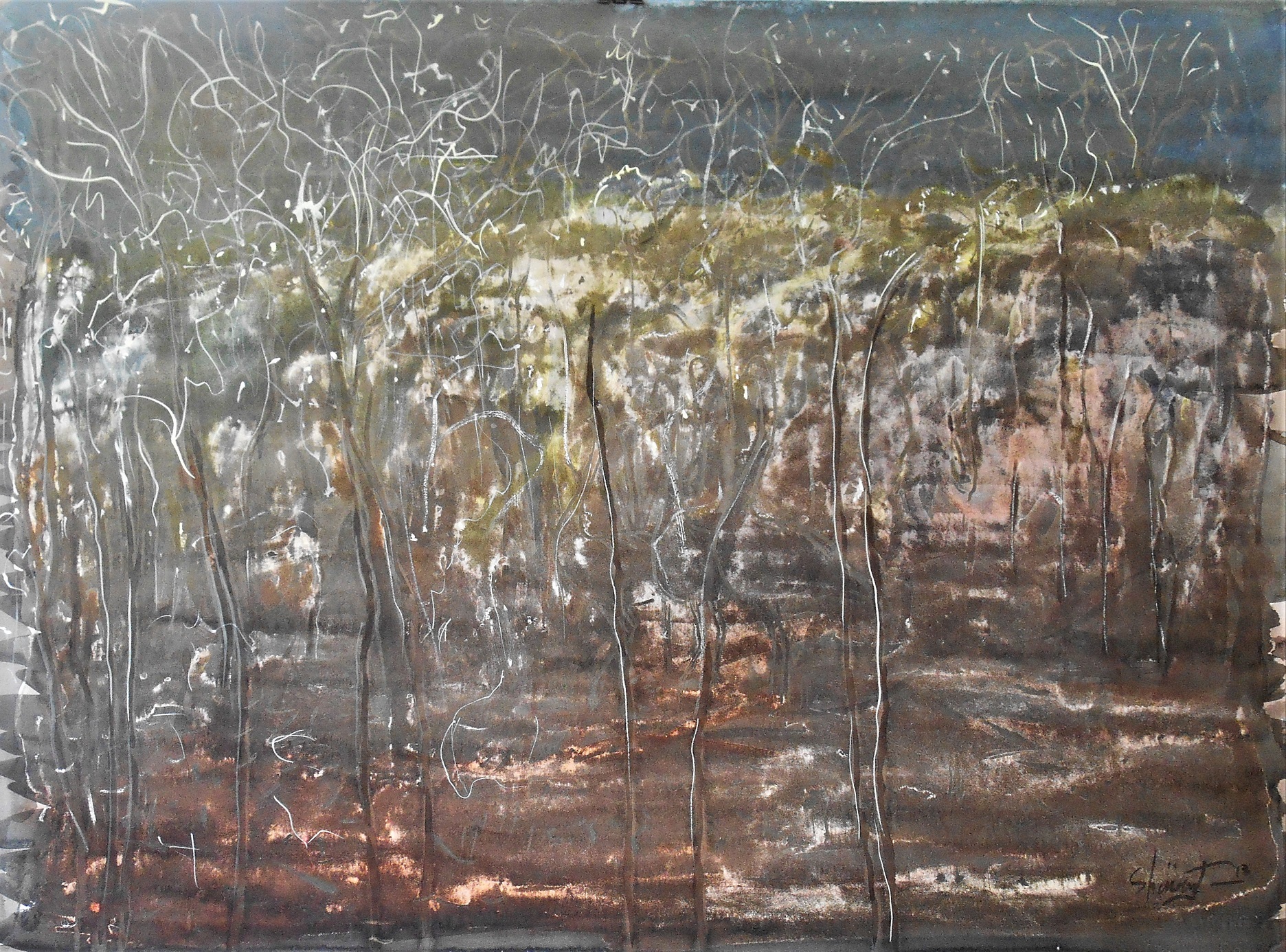 Last light Gundabooka
Finalist.2018 Paddington Art Prize
watercolour / mixed media on paper 55 x 76 cm
Gundabooka landscape
Finalist.2018 NSW Parliament plein air exhibition
Watercolour on paper 50 x 50 cm
Little Spiral - Now available in bookshops. He may be small but he loves exploring. Join Little Spiral on his journey through the rainforest. Stay safe, Little Spiral.
Can You Find Me? selected as a Notable Book for 2018 by the CBCA,and shortlisted for the crichton award...Shortlisted for 2018 Wilderness Society of Australia,Environment Award
The Sturt Winter School 2018
is from Monday 9 - Friday 13 July, offering 16 Adult Courses.
COURSE TUTOR COST + material LEVEL
01 Drawn to nature Pat Shirvington $710 + TBA All
Can You find Me ?
This beautiful picture book explores how Aussie animals use camouflage to hide and survive in the Australian bush. Mammals, birds, insects, reptiles, amphibians and fish are all represented – some large, some small. Each double page spread focuses on a particular animal.
This book has everything you need to captivate children 3-6 at story time: repeating phrases, gorgeous watercolour illustrations of a range of Aussie animals in scenic spreads, and the fun of searching for each animal as it blends in with its habitat. To assist children unfamiliar with some of the animals, there's a guide each animal's appearance at the back.
The text on each page follows a 5-line formula, and soon becomes like a familiar friend. The first three lines state what the animal is, its habitat, and how the animal resembles its habitat. The last two lines are always the same:
That is why I am hard to see.
Can you find me?
The repetition encourages new and reluctant readers, and reinforces the theme of animal camouflage.
I was captivated by this book from the moment I saw its beautiful cover. Even the end pages are striking, with branches of native plant species set against a white background.
Recommended for pre-schoolers, and as a junior science resource.
Reviewed by Julie Murphy
CAN YOU find ME ? Released September 2017
Can You Find Me?
By: Gordon Winch, Patrick Shirvington (Illustrator)
Search for an echidna, a powerful owl, a frog and many more animals hidden on every page. Pat Shirvingtons striking illustrations hide each one of the animals just enough for the guessing to begin.
CHARACTER OF THE BUSH
Through environmental education, art could be used as a conduit to the fundamental experience of nature. I feel that the art of drawing has the power to connect directly, enhancing complete immersion in nature. With a piece of paper and pencil students work directly in the landscape, identifying plants and creating characters and stories. I begin by telling an ecological story utilising the different characters I have created. The student's then engage with the bushland discovering their own imaginative characters, by identifying traits within their chosen plant. The student becomes more connected and has fun creating their stories. By exposing students to nature in this way doesn't over-burden them with science and negativity but introduces the journey of wonder and beauty, initiating their veneration of the environment. To experience nature in this way will stimulate a new consciousness, inviting the imagination to connect the natural world as an extension of the human being.
http://www.ecoartsaustralis.org.au/events-and-projects/conference-2016-building-sustainability-with-the-arts/
Nexus - Biophilia
A discussion with Phil Shirvington